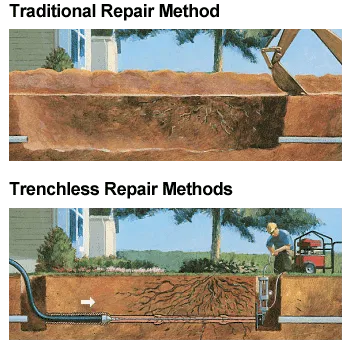 Many homeowners faced with sewer line problems dread the time, inconveniences and expenses involved in repairs. They're not to blame, for conventional methods were quite a nightmare! Even the smallest issues, especially when it comes to underground pipes, called for excavation. Thousands of dollars spent on unexpected problems contribute to an even more stressful situation.
Good thing a way better option has been uncovered. Trenchless technology is re-imagining the way people think about sewer repair and replacement problems in the Albemarle area. In such a short time, the process has proved worthy and its importance cannot be highlighted more. The revolutionary method of sewer repair brings great news to residents and business owners in many aspects:
It's a Cutting-Edge Technique
Though moderately new, trenchless technology's been around for more than 15 years. In that time it has come to be viewed as a profoundly compelling and best strategy to implement where there's no reason for destructive digging. Professional trenchless technicians utilize cameras, specialized equipment and a hydraulic system to perform the task.
No Digging, No Mess Involved
You won't see heavy machinery and overwhelming gear in your home or business place. With only one or two access holes required and nothing to relandscape later on, trenchless repairs take considerably less of your time and money. At the end of the day, you can get back to your lovely home or attend to important business matters.
Trenchless Will Cost You Less
Since a trenchless repair doesn't require extensive digging, a few laborers would be enough to do an excellent job. Trenchless innovation offers big savings as you pay for less hours of work and lesser number of technicians expected to take care of business. Factor in the time and frustration you spared yourself from the burden of a broken sewer line, there's really no price to it. Your family can immediately return to customary schedules, and you can get down to business with little to no interruption to your operations.
Long Lasting Repairs or Replacements
Materials used to implement the latest trenchless methods are of superb quality. Every component is tested to meet high standards and built to last for decades. Once repairs are completed, you can rest assured that water will flow in durable, leak-proof, and corrosion resistant pipes. The chances of new pipes installed by means of trenchless technology withstanding daily use for long-term are higher compared to cast iron, PVC or clay pipes.
It's Environment-Friendly
Traditional ways of excavation aren't easy on the environment. Not only is the surrounding land or ground disrupted, but the risk of sewage exposure becomes much higher. Trenchless offers a greener choice for sewer line repair with a non-invasive process that protects you, your property, and the world. It's safer too as contaminants are contained throughout the process.
There are two trenchless methods that plumbers could use depending on your situation, pipe bursting or pipe lining. Whichever is the most appropriate solution, these five reasons solidly backup how important trenchless technology is for Albemarle sewer repair.
When in need of basic and emergency plumbing services, call Speedy Rooter Plumbing. We are the team that you can trust for services from a reliable plumber in Charlottesville, VA, and nearby areas. We have a committed team of well-trained professionals waiting to address your needs. Call us today or fill out the form on this site to schedule your appointment.