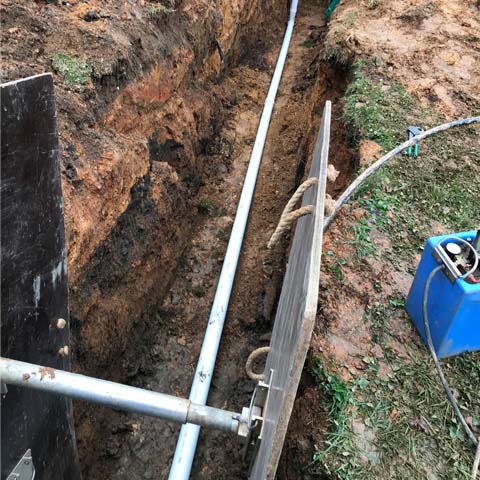 CIPP pipe lining is a non-invasive, no-dig method for rehabilitating broken and cracked pipes. The popular method of repair utilizes a liner to create a new stronger pipe inside the existing pipe. Speedy Rooter Plumbing prefers the technology because it preserves building structures and prolongs the pipe's lifespan. CIPP piping is unique in its own ways, and offers several advantages over traditional repairs. We discuss more below:
What is CIPP Lining?
CIPP lining is an innovative plumbing methodology used by pipe lining companies to repair and strengthen old or damaged pipes. Pipe repair technicians use a unique epoxy material to line the damaged pipe. The epoxy is left to cure, reinforcing the pipes from the inside. When the epoxy has hardened, any cracks or leaks in the pipe are effectively sealed.
Since CIPP is a method of trenchless pipe lining in Staunton, VA, there is very little to no excavation involved in the process. Our plumbers only dig two small holes in your lawn that serve as entry and exit points for the epoxy-filled liner.
What are the Advantages of CIPP Lining?
Compared with traditional repairs, sewer pipe lining is much more cost-efficient. Since there is virtually no digging required, homeowners don't have to worry about landscaping costs once the repairs are completed. CIPP lining also requires fewer equipment and technicians to carry out, which can translate to lower costs.
CIPP lining can also be completed much faster than traditional repairs. In fact most trenchless pipe lining solutions can be finished within hours, while traditional methods need days to complete. This means that homeowners won't need to relocate while the repairs are ongoing, since there will be very little disruptions to your home.
To learn more about CIPP lining, cast iron pipe lining, and the other trenchless solutions that we offer, don't hesitate to contact Speedy Rooter Plumbing. We take pride in providing top quality services at competitive prices. Schedule an appointment with our professional team today.
When in need of basic and emergency plumbing services, call Speedy Rooter Plumbing. We are the team that you can trust for services from a reliable plumber in Charlottesville, VA, and nearby areas. We have a committed team of well-trained professionals waiting to address your needs. Call us today or fill out the form on this site to schedule your appointment.