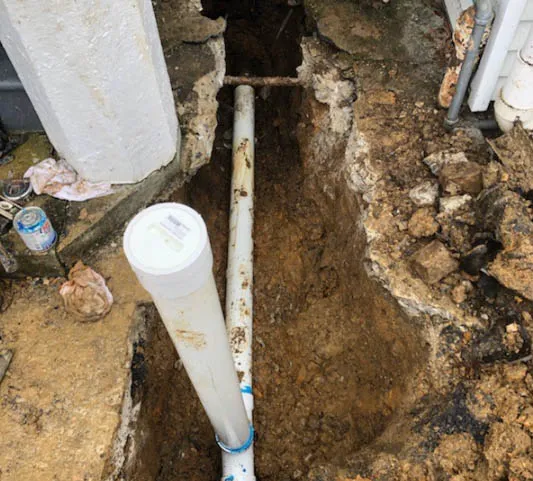 Compared with other methods of repair, trenchless pipe lining in Charlottesville, VA is often preferred by homeowners due to its convenience and long-lasting results. At Speedy Rooter Plumbing, we offer different methods of pipe lining solutions depending on the age of the pipes, extent of the damage, and nature of the problem. We discuss these further below:
CIPP Pipe Lining
CIPP pipe lining, also known as Cured-in-Place-Pipe lining, is a way to install a fresh lining in a pipe without needing to excavate and replace the existing system. It is a quick and efficient method for refurbishing older pipes, without the added costs of intense labor that comes with all the digging.
Cast Iron Pipe Lining
Then there is cast iron pipe lining. This is not a different method ofre-lining, but rather a specific type of pipe commonly found in homes and commercial systems. Cast iron makes for very strong material, but it is susceptible to corrosion. New lining can help prevent corrosion from gaining a foothold and causing leaks and breakages early. While a little pricier than copper or PVC, cast iron is the best choice for any drainage application that needs strength and durability.
Sewer Pipe Lining
Finally, the sewer pipe lining process is simple and absolutely essential. It starts off with an inspection, then we'll give the drain a good cleaning. From there, we take measurements, prepare the tubing replacements, and get them in place. Then, we let it cure and once done, the flow can be brought back to the pipes.
As one of the top pipe lining companies, Speedy Rooter Plumbing is sure to provide you with quality and lasting pipe lining solutions. Contact us today to explore our full range of services. Call us or fill out the form to schedule an appointment.
When in need of basic and emergency plumbing services, call Speedy Rooter Plumbing. We are the team that you can trust for services from a reliable plumber in Charlottesville, VA, and nearby areas. We have a committed team of well-trained professionals waiting to address your needs. Call us today or fill out the form on this site to schedule your appointment.